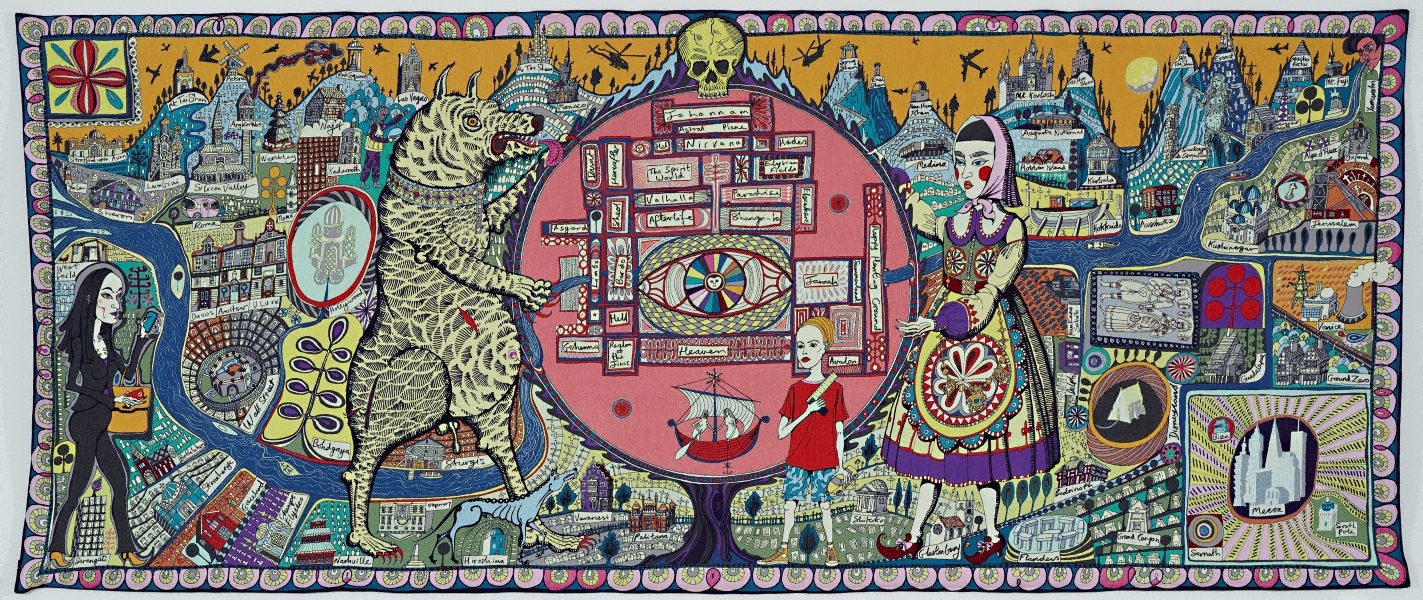 I have chosen to look at Greyson Perry's work for this project as he is well known for his maps and tapestries and I find the way that he uses colour and texture interesting. I like this piece because all the elements and characters make it intriguing. I like the complexity and detail as it all works to come together to form a narrative within the piece. The colours are bold which make it stand out. I also like the inclusion of text, this helps to make it appear more map like and it enables you to understand it further. This piece has inspired me to play with textures when developing my work.
I have also looked at William Grills work. I like this piece as it could work as a functional map. I also like the simplicity of the image, I think that it makes it easy to understand and to navigate the image. I also like the sparse use of colour, I think that this makes the image look more like traditional maps. This image has inspired me to play with colour in my work and to try including lots of detail to make my work more recognisable as a map. However, this piece is more of a literal map and the map that I will be creating needs to be metaphorical.
I like this piece by Shannon Rankin as it combines anatomy, which can be considered one type of map, with typographic maps. She has described maps as "metaphors that speak to the fragile and transitory state of our lives and our surroundings." I think this is shown clearly in her work by the damaged map in the shape of the human head. I like the use of collage, I think this  helps to bring the image to life and adds a three dimensional quality to the piece. Her work has inspired me to incorporate collage into my work.
I also looked at psychogeographic maps when researching images for this project.
I find this map interesting as I like how a traditional map has been used to create an anatomical map of the head. I like how the roads and rivers appear to be a map of veins and nerves in the head. I like how its has a similar theme to the work from Shannon Rankin. I think that this piece looks more illustrative than her work and it reminds me of 18th century anatomy drawings. I like how again two different forms of maps have been combined to form a new metaphorical map.