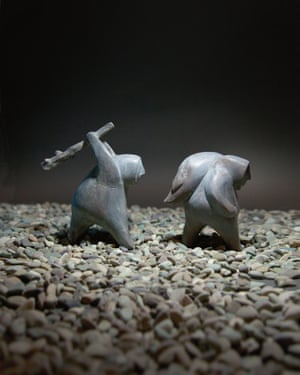 For our latest brief I have been researching different illustrated books. One of the books that has inspired me is The Singing Bone by Shaun Tan. I was originally interested in this book because it included one of the stories that we have been given to illustrate for this project. This book inspired me because of the simple primal sculptures that are used to illustrate each story. I think that the primitive forms link well with stories because of how old they are and because they carry a simple moral lesson. The solid forms of the people and animals in the book help to make the story more tangible which enables you to become more immersed in it.
One of the other books I have looked at for this brief is The White Hare by Nicola Davies, illustrated by Anastasia Izlesou. I really liked the use of watercolours to create the mystical landscapes in this book, and the different textures that it creates. This book has inspired me to try something similar which would also allow me to develop my use of colour.
Another book that I have looked at is Through the Woods by Emily Carroll. I looked at this book because of the way the text is incorporated into the illustrations and how it becomes part of the image. I also like the font used as it fits with the style of illustrations and the genre of the story.